Selenium deficiency
Conditions when likely to occur:
Known deficient regions such as coastal sandy soils, acidic soils, sedimentary and granite soils usually in high rainfall regions exacerbated by high superphosphate application and clover dominance, typically deficiencies are greatest when feed is lush. Young growing stock.
Blood biochemistry: Blood glutathione peroxidase deficient <40 U/gHb, blood selenium deficient <0.25µmol/l, liver selenium <2.5 nmol/kg DM and pasture selenium deficient <0.02 mg/kg DM.
This map highlights the main regions where trace element deficiencies occur (but does not necessarily cover all trace element deficient regions):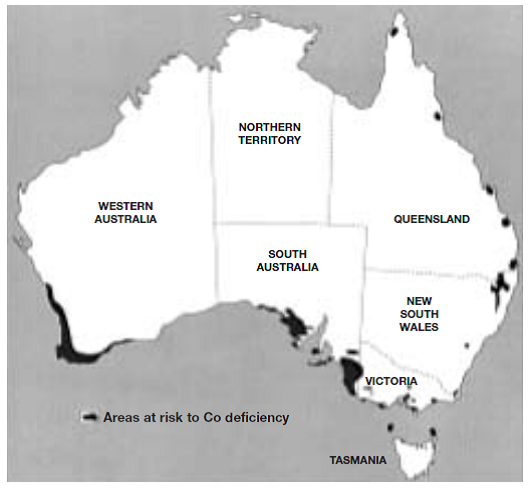 Figure 1: Areas where livestock may be at risk from selenium deficiency or toxicity
Source: Judson, GJ and Reuter, DJ 'Selenium', in KI Peverill, LA Sparrow and DJ Reuter (eds), Soil Analysis: An Interpretation Manual, Melbourne: CSIRO Publishing, 1999; 325–329.
Further information
Trace Elements for Pastures and Animals in Victoria by WJ Hoskings et al (Department of Agriculture and Rural Affairs)
Soil Analysis: An Interpretation Manual, KI Peverill, LA Sparrow and DJ Reuter (eds) (CSIRO Publishing)
Clinical signs: Stiff-legged gait, sudden death, poor growth an uncommon sign.
Management strategy to prevent disease:
Oral selenium drench (sodium selenite/sodium selenate) at 0.1mg Se/kg body weight for immediate treatment of animals giving 6–8 weeks protection.
Selenium pour-on convenient and will protect for three months.
Selenium pellets or injection for longer-term protection.
Top-dress pasture (depends on cost/benefit), usually too expensive, except in high stocking rate situations.
Discuss dosage and options with your veterinarian and agronomist.